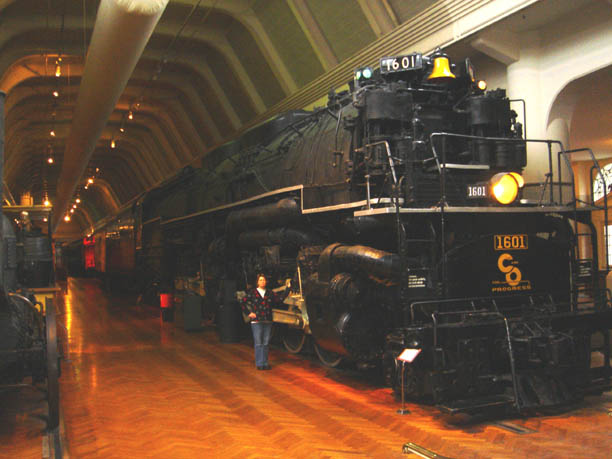 Henry Ford Museum
The Henry Ford provides unique educational experiences based on authentic objects, stories, and lives from America's traditions of ingenuity, resourcefulness and innovation.
1941 LIMA "ALLEGHENY"
ONE OF THE LARGEST, MOST POWERFUL LOCOMOTIVES EVER BUILT
This mammoth coal-burning locomotive was manufactured in Lima, Ohio, by the Chesapeake & Ohio railway. Like 69 other similar locomotives built in the 1940s, it saw heavy duty hauling coal in West Virginia, Virginia, Kentucky and southern Ohio. The Allegheny, essentially an evolutionary development of the Mallet locomotive, is of articulated or "hinged" construction. It is one of the most powerful units ever built, with a tractive force of 110,200 pounds. The Allegheny's statistics are most impressive. Capable of hauling 160 coal cars each with a 60-ton load, it is equipped with an 8,000 horsepower boiler, the largest ever installed in an engine. Weight totals close to 600 tons. Capacity of the tender is 25 tons of coal and 25,000 gallons of water. Designed to pull its maximum load over the maximum grades at 30 to 35 mph, the Allegheny could reach 60 mph under less severe conditions. Getting the Allegheny into the Museum was no small task. The locomotive traveled the last of iv 407,008 miles into Dearborn under its own steam. A the Rougemeer yard of Ford Motor Company , it was cleaned and readied for its final move, but first special crew widened the Museum back door .Because the cab was too wide even for the new opening,it was necessary to cut a V section out of the cab. As the Allegheny was pushed to its final resting place by a diesel locomotive, the temporarily removed cab section was squeezed together to permit passage through the door opening. Once the locomotive was inside, the cab section and Museum door were restored to their original condition.
Maker: Lima Locomotive Works , Lima, Ohio
Length: 125 ft. Height: 16 ft. 5.5 in.
Width: 11 ft. 2 in. Weight: (locomotive and tender) 600 tons
Original price: $250,000
Gift of Chesapeake & Ohio Railway
STANLEY STEAMER MODEL 60

$850.00

Prior to World War I steam automobiles were popular in the United States, especially in areas where extra power was needed to climb steep hills and mountains. Stanley vied with White steamers for attention and prestige. One of the most famous models built by Stanley was the Mountain wagon seating from nine to twelve passengers, widely used by summer hotels and resorts.

This model 60 runabout, which seated 4 passengers, had the typical appeals of Stanley models of the period: smooth torque, limited vibration, and no gears to shift. Speed control by the throttle for an infinite number of speeds forward or backward without resort to a transmission.

boilers under the hood and the gasoline tank under the seat

Maker: Stanley Moore. Company

Newton Massachusetts

Engine: two – cylinder displacement: 74.7 cu.

Horsepower: 10 WEIGHT: 1500lbs
A few comments about the Museum:
GO !
never pass up any opportunity to visit this great Institution, no matted what the distance to get there
At the time of our visit in December 2005 the museum was arranged with roughly 1/4 of the area, to trains and automobiles, 1/4 to aircraft and aerospace, 1/4 to the massive steam engines, and the remainder to household and farming items