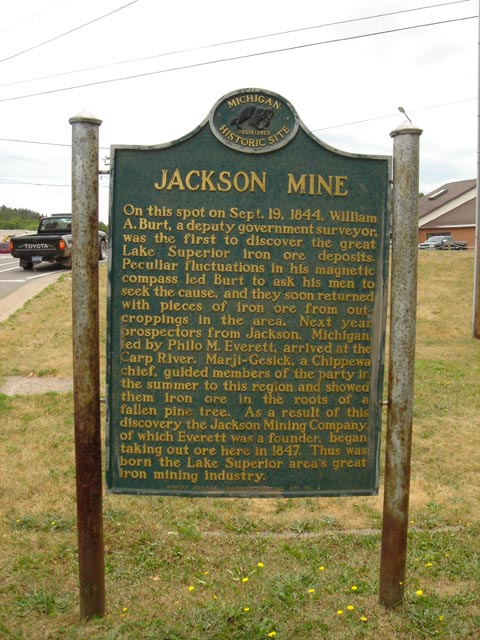 JACKSON MINE
On this spot on Sept. 19, 1844, William A. Burt, a deputy government surveyor was the first to discover the great Lake Superior iron ore deposits. Peculiar fluctuations in his magnetic compass led Burt to ask his men to seek the cause, and they soon returned with pieces of iron ore from out-croppings in the area. Next year prospectors from Jackson, Michigan led by Philo M. Everett, arrived at the Carp River. Marji-Gesick, a Chippewa chief, guided members of the party in the summer to this region and showed them iron ore in the roots of a fallen pine tree. As a result of this discovery the Jackson Mining Company, of which Everett was a founder, began taking out ore here in 1847. Thus was born the Lake Superior area's great iron mining industry.
MICHIGAN HISTORICAL COMMISION REGISTERD SITE NO. 4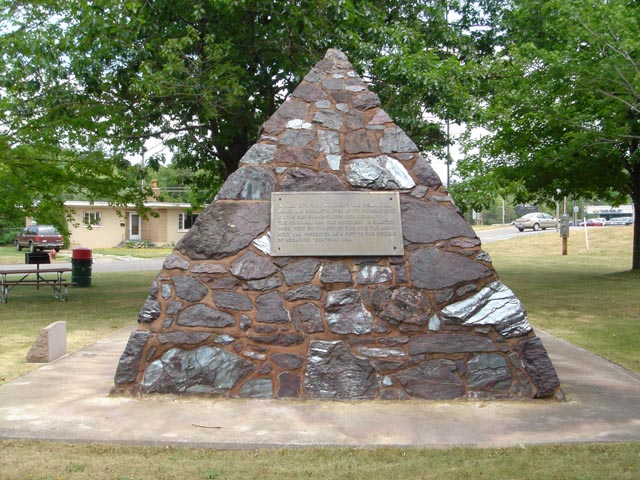 IN JULY 1974 THIS MONUMENT WAS DISMANTLED, MOVED AND RECONSTRUCTED AT ITS PRESENT SITE BY THE CLEVELAND-CLIFFS IRON COMPANY. THE ORIGINAL IRON ORE DISCOVERY IS EXACTLY 8,468 FEET SOUTHWEST OF THIS SITE THE MONUMENT WAS PRESENTED AS A GIFT TO THE CITIZENS OF NEGAUNEE, "IRONTOWN" USA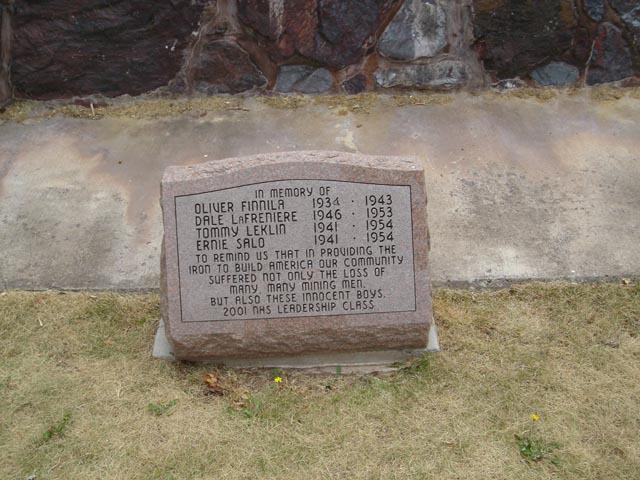 IN MEMORY OF
OLIVER FINNILA 1934-1943
DALE LaFRENIER 1946-1953
TOMMY LEKLIN 1941-1954
ERNIE SALO 1941-1954
TO REMIND US THAT IN PROVIDING THE IRON TO BUILD AMERICA OUR COMMUNITY SUFFERED NOT ONLY THE LOSS OF MANY, MANY MINING MEN. BUT ALSO THESE INNOCENT BOYS.
2001 NHS LEADERSHIP CLASS